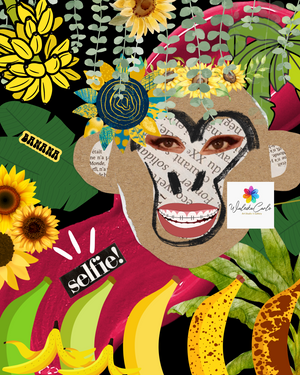 Waleska Carlo Art Studio
SELFIE
Obra de arte digital de la artista Waleska Carlo en Collage impreso en papel alta calidad en tamaño 8.5 x 11 lista para enmarcar.  Sale Firmada. 
SELFIE es cuando nos hacemos un photo shooting y nos creemos modelos de pasarela hasta que vemos la foto. Todo iba perfectamente bien hasta ese momento donde borramos las 100 fotos que habíamos tomado. Por esas extrañas razones de la vida, no nos gustó casi ninguna.  Y es que teníamos unas expectativas tipo artistas de TV. Se nos olvida que somos únicos, originales y no debemos parecernos a nadie más que a ti mismo. De eso se trata esta obra.
Título: "SELFIE"
Medio: Collage Digital
La obra sale sin la marca de agua, es solo para protección de los copyrights del artista en esta tienda online. 

La tirada limitada es de solo 250 obras en los artes digitales. 
Nuestro estudio de arte crea obras originales en varios formatos para el disfrute de todos. 
Embellece tu espacio favorito con nuestro arte. 
Discover and buy original art direct from our studio, including paintings, handmade prints, and fine art photography.