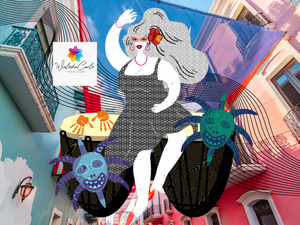 Waleska Carlo Art Studio
BOMBAZA CARTEL
Obra de arte digital de la artista Waleska Carlo en Collage impreso en papel alta calidad en tamaño.  Sale Firmada. 
BOMBAZA es una obra impresa en poster (cartel) tamaño 16 x 12 donde honramos el baile cultural que hemos adoptado en Puerto Rico. Esta obra está siendo exhibida actualmente en la Casa Aboy en Santurce, Galería de Arte muy reconocida, en una exhibición organizada por la Asociación de Artistas plásticos de Puerto Rico. De eso se trata esta obra.
Título: "BOMBAZA"
Medio: Collage Digital
La obra sale sin la marca de agua, es solo para protección de los copyrights del artista en esta tienda online. 
Nuestro estudio de arte crea obras originales en varios formatos para el disfrute de todos. 
Embellece tu espacio favorito con nuestro arte. 
Discover and buy original art direct from our studio, including paintings, handmade prints, and fine art photography.