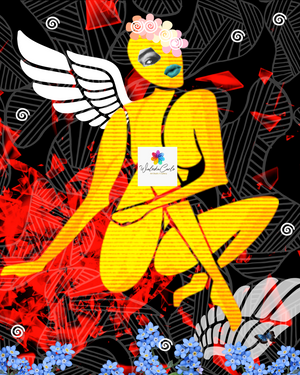 Waleska Carlo Art Studio
EL ALA ROTA
Obra de arte digital de la artista Waleska Carlo en Collage impreso en papel alta calidad en tamaño 8.5 x 11 lista para enmarcar.  Sale Firmada. 
En muchas ocasiones las mujeres sentimos que nos rompieron el ala y ya no podemos volar. Nos han lastimado de forma tan dolorosa que ya no se piensa en futuros, metas, planes, lo único que hacemos es llorar y sufrir la perdida de las ganas, energías, pasiones, anhelos y deseos. Es un proceso duro, el poder levantarse, es difícil pensar en mañana y es muy doloroso hasta el poder pensar en algo porque nos sentimos rotas por dentro. De eso se trata esta obra.
Título: "El ala rota"
Medio: Collage Digital
La obra sale sin la marca de agua, es solo para protección de los copyrights del artista en esta tienda online. 

La tirada limitada es de solo 250 obras en los artes digitales. 
Nuestro estudio de arte crea obras originales en varios formatos para el disfrute de todos. 
Embellece tu espacio favorito con nuestro arte. 
Discover and buy original art direct from our studio, including paintings, handmade prints, and fine art photography.