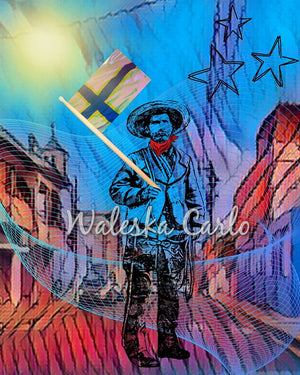 Waleska Carlo Art Studio
EL VAQUERO EN LA CALLE COMERIO
Obra de arte digital de la artista Waleska Carlo en Collage impreso en papel alta calidad en tamaño 8.5 x 11 lista para enmarcar.  Sale Firmada. 
Hay que ser Vaquero para transitar por esta maravillosa e icónica calle Comerío ubicada en el Pueblo de Bayamón, Puerto Rico. Es una calle muy antigua y cultural, ya que siempre ha estado llena de comercios de todos tipos y muchos de ellos llevan cantidades de años operando en el mismo lugar. En esta calle se encuentra una de las Panaderías más famosas del Pueblo, puesto que solo vende pan desde el año 1933, cuyo nombre es la Panadería Cialeña. Transitar por esta calle es una verdadera aventura, ya que te encuentras desde transeúntes por la misma calle hasta vehículos que van a velocidad acelerada y montones de autos mal parqueados. Es excitante, emocionante y a la vez hay que tener mucho cuidado cuando manejamos por la calle Comerío, puedo recomendar ir a la velocidad adecuada para que puedas ver todo y de paso tener precaución.  No olvides detenerte en la Panadería Cialeña para que te lleve el pan si es que está abierta, ya que cierran cuando se vende la cuota diaria. 

La obra sale sin la marca de agua, es solo para protección de los copyrights del artista en esta tienda online. 
La tirada limitada es de solo 250 obras en los artes digitales. 
Título: "El Vaquero de la calle Comerío"
Medio: Collage Digital
Nuestro estudio de arte crea obras originales en varios formatos para el disfrute de todos. 
Embellece tu espacio favorito con nuestro arte. 
Discover and buy original art direct from our studio, including paintings, handmade prints, and fine art photography.