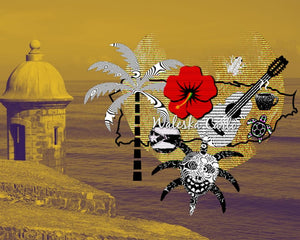 Waleska Carlo Art Studio
LA GARITA
Obra de arte digital de la artista Waleska Carlo en Collage impreso en papel alta calidad en tamaño 8.5 x 11 lista para enmarcar.  Sale Firmada. 
La Garita del Morro es una parte muy cultural de Puerto Rico y muy atesorada, desde que llegas a Puerto Rico te encuentras con las Garitas del viejo San Juan, las cuales han servido de inspiración para muchos artistas. 

Las Garitas son símbolo de sus fortificaciones en nuestra capital, el Viejo San Juan. Estas construcciones fueron hechas para defender a nuestra hermosa Isla en ataques del enemigo. Eran usadas por los militares y hoy día son visitadas por turistas que visitan a Puerto Rico, nuestra Isla del Encanto. 

La obra sale sin la marca de agua, es solo para protección de los copyrights del artista en esta tienda online. 
La tirada limitada es de solo 250 obras en los artes digitales. 
Nuestro estudio de arte crea obras originales en varios formatos para el disfrute de todos. 
Embellece tu espacio favorito con nuestro arte. 
Discover and buy original art direct from our studio, including paintings, handmade prints, and fine art photography.