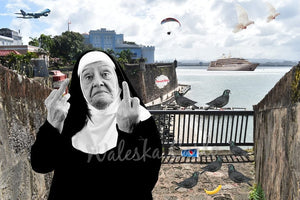 Waleska Carlo Art Studio
LA MONJA ENFADADA
Obra de arte digital de la artista Waleska Carlo en Collage impreso en papel alta calidad en tamaño 8.5 x 11 lista para enmarcar.  Sale Firmada. 
Yo le pregunté a esta Monja que se encontraba de turista en el Viejo San Juan si me permitía tomarle una foto, ya que admiraba su belleza cautivadora, sus ropajes y su personalidad, su respuesta fue automática, creativa, espontánea la cual me causo nervios y al mismo tiempo mucha risa. Su enfado sorpresivo fue algo muy especial, puesto que de alguna forma le tome mucho cariño y pude comprender su humanidad, su lado fuerte, su defensa y sobre todo su cinismo. ¡Realmente yo no me esperaba este gesto, pero no cabe duda que el mismo fue genial!

Título: "La Monja enfadada"

La obra sale sin la marca de agua, es solo para protección de los copyrights del artista en esta tienda online. 
La tirada limitada es de solo 250 obras en los artes digitales. 
Nuestro estudio de arte crea obras originales en varios formatos para el disfrute de todos. 
Embellece tu espacio favorito con nuestro arte. 
Discover and buy original art direct from our studio, including paintings, handmade prints, and fine art photography.