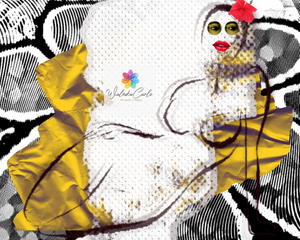 Waleska Carlo Art Studio & Gallery
SOY MUJER
Obra de arte digital de la artista Waleska Carlo en Collage impreso en papel alta calidad en tamaño 8.5 x 11 lista para enmarcar.  Sale Firmada. 
Soy Mujer es una obra que expresa el sentir como mujer ese orgullo que sentimos de ser un todo. Del mismo modo que podemos ser sensuales, también somos resilientes, fuertes, valientes, y con la capacidad de hacer muchas cosas a la vez. Nuestro celebro va pensando en múltiples cosas y esto sucede por la cantidad de roles que la mujer desempeña en una sociedad. Aparte de ser madres, esposas, somos muchas veces jefas de familia, trabajadoras incansables, que no podemos rendirnos ante la adversidad, es por eso que nuestra fuerza se hace necesaria para que los hogares y la familia sigan funcionando adecuadamente, no obstante seguimos siendo muy bellas, hermosas, muchas veces vulnerables pero todo el tiempo fuertes y valerosas. 

Título: "Soy Mujer"

La obra sale sin la marca de agua, es solo para protección de los copyrights del artista en esta tienda online. 
La tirada limitada es de solo 250 obras en los artes digitales. 
Nuestro estudio de arte crea obras originales en varios formatos para el disfrute de todos. 
Embellece tu espacio favorito con nuestro arte. 
Discover and buy original art direct from our studio, including paintings, handmade prints, and fine art photography.