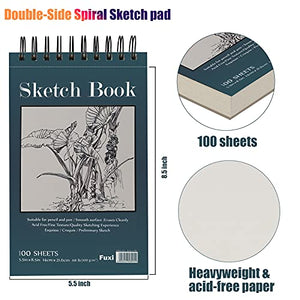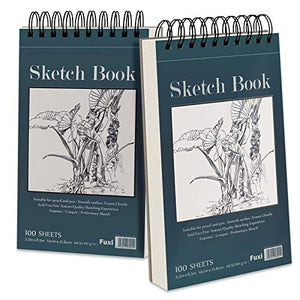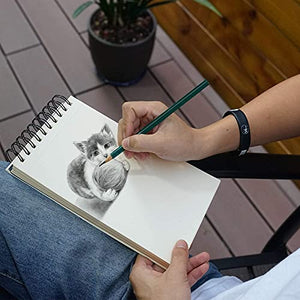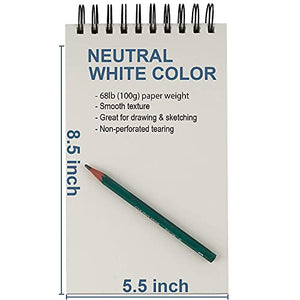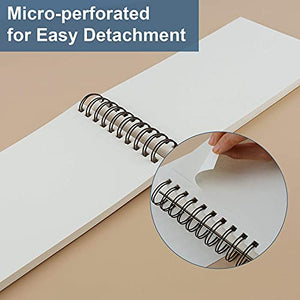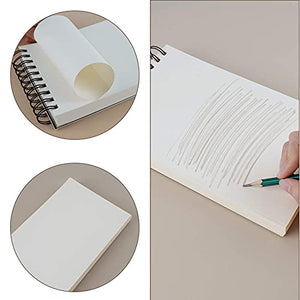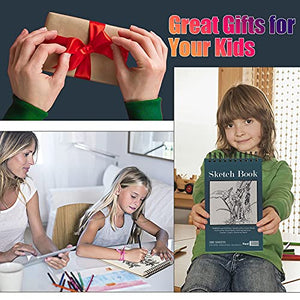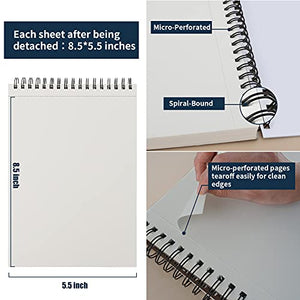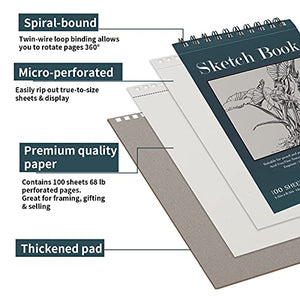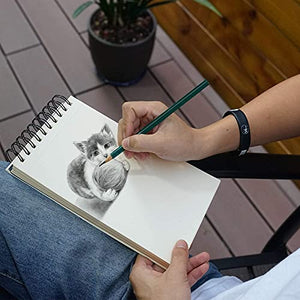 Fuxi
5.5" x 8.5" Sketchbook Set, Top Spiral Bound Sketch Pad, 2 Packs 100-Sheets Each (68lb/100gsm), Acid Free Art Sketch Book Artistic Drawing Painting Writing Paper for Beginners Artists
Brand: Fuxi
Features:
【Premium & Durable Material】--Extremely strong toughness and durability of this sketching paper pad allows for erasing without damaging paper surface, so it can stand up to multiple drawings without warping or penetrating. This spiral sketchbook can be used for sketching, painting and writing. Ideal for all dry media including pencil, pen, pastels, charcoal, sketching sticks, gel pen and so on. NOT applicable to markers and Watercolor pen.
【Convenient Spiral Bound】--Designed with sturdy spiral bound on the top, this sketch pad provides better access to flipping the pages. You will have no trouble detaching paper---keeping the paper in good shape all the time, providing better drawing & writing experience.
【Compact Size with the Protective Cover】--2 pads x 100 sheets each & size in 5.5"X8.5". Our art notebook is portable enough for you to carry around and easy to stash in almost all kinds of backpacks. This artist sketchpads are always ready when inspiration hits.
【Acid-Free & Non-Faded】--We only use recyclable, acid free & PH neutral drawing / painting paper to reduce drawing smudges, blotches, or transfers, protect your art, so that colors stay rich & vibrant, and will last up to many years under normal use and storage conditions. With our thick sketch book you can say goodbye to unwanted yellowing over time.
【Suitable for All Skill Levels】--This drawing notebook can be used by beginners and pros of every skill level to learn and develop their drawing skills. This art sketchbooks will satisfy all of your needs, can be a perfect gift for drawing enthusiasts.
Binding: Office Product
Part Number: 5.5*8.5sketch 2pack
Details: Specification: Weight: 1.72 lbs Size: 5.5" x 8.5" Sheet of Paper: 100 Sheets each (68lb/100gsm) Package Included: 2 X Top Spiral Bound Sketchbook Note: The sketchbook is applicable to Dry Media such as pencils, pens, graphite, charcoals, etc. Markers and watercolor pens are not recommended because of the chance of penetrating.
EAN: 0701400895431
Package Dimensions: 10.4 x 5.8 x 1.9 inches