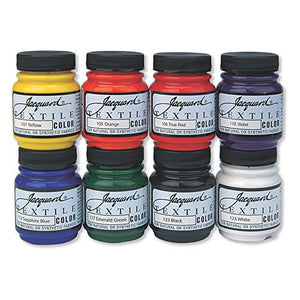 Jacquard
Jacquard Textile 8 Color Set
Pintura para telas. Se puede usar en camisetas, mahones, telas livianas y pesadas. Se puede usar para serigrafia o dibujos libres con brocha o plantillas (stencils).
Brand: Jacquard
Color: Classic 8 Color Set
Features:
Textile 8 color set
Includes primary and secondary colors
Colorfast and washable
Each jar includes 2.25 fluid ounces
Made in USA
Binding: Kitchen
model number: 524805
Part Number: JAC1000
Details: Jacquard products-textile color fabric paint: primary and secondary colors. These colors leave your fabric as soft as possible. They can be applied straight from the bottle with a brush applicator bottle or stamp. This package contains eight 2.25Oz bottles of paint in Assorted colors. Conforms to ASTM D4236. Made in USA.
EAN: 0743772100072
Package Dimensions: 7.2 x 5.0 x 1.8 inches
Languages: English