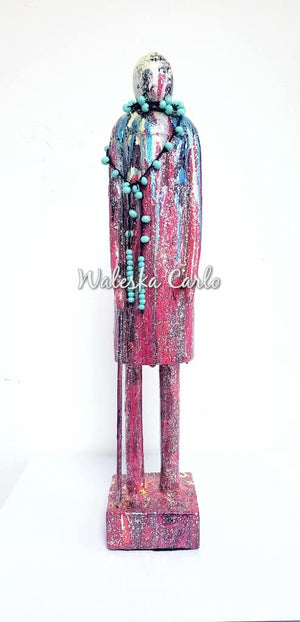 Waleska Carlo Art Studio & Gallery
LA GUERRA
"LA GUERRA" es una pieza de arte muy diferente, interesante e intervenida en colores cromáticos con decoración hecha a mano por la artista Waleska Carlo. 
Esta pieza es una obra de arte intervenido. Una pieza vintage en cerámica adquirida en tiendas de antigüedades / segundas manos y convertida a pieza de Galería. Los colores cromáticos le dan vida a esta hermosa obra. ¡La artista busca por todo Puerto Rico esculturas específicas y especiales que reúnan ciertos criterios para ser adquiridas y luego cambiadas a piezas de colección en Galería! 
Solo hay una pieza única. Arte contemporáneo.
Nuestro estudio de arte crea y vende obras en varios formatos para el disfrute de todos y hace envíos por correo, pick-up y deliverys. 
Embellece tu espacio favorito con nuestro arte. 
Discover and buy original art direct from our studio, including paintings, handmade prints, and fine art photography.