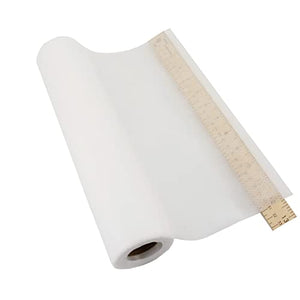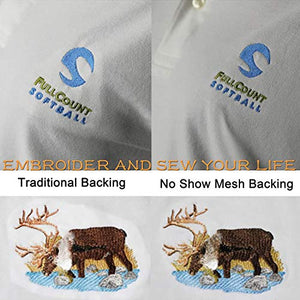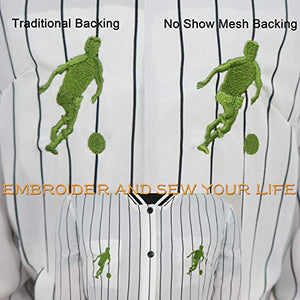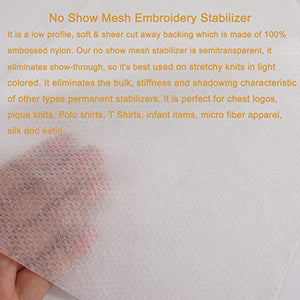 New brothread
New brothread No Show Mesh Machine Embroidery Stabilizer Backing 12" x 10 Yd roll - Light Weight 1.8 oz - Cut into Variable Sizes for Machine Embroidery and Hand Sewing
Brand: New brothread
Color: Transparent
Features:
▶NOT ONLY CUTAWAY STABILIZER: This is no show mesh cutaway stabilizer which provides permanent support for embroidery projects. Unlike traditional cutaway stabilizer, our no show mesh stabilizer eliminates the backing showing through light colored fabrics because of its semitransparent, soft and sheer texture. (similar to Sulky Soft'n'Sheer, Weblon, OESD Polymesh)
▶BEST USED ON LIGHT COLORED FABRICS: Our no show mesh stabilizer is semitransparent, it eliminates show-through, so it's best used on stretchy knits in light colored. It eliminates the bulk, stiffness and shadowing characteristic of other types permanent stabilizers. It is perfect for chest logos, pique knits, Polo shirts, T Shirts, infant items, micro fiber apparel, silk and satin.
▶HOW TO USE: It is Light Weight no show mesh stabilizer. For the embroidery designs with light stitches, just put one layer stabilizer under the fabric, then hoop and stitch together. One layer can be strong enough to produce best "no show" results.
▶TIPS FOR DENSER STITCH DESIGNS: For heavy stitches, denser designs or thicker fabrics, you can put one layer of light weight tearaway stabilizer underneath of no show mesh stabilizer for extra stability, then hoop and stitch together. After the design is completed, the tear away stabilizer can be torn off and just leave the soft mesh against the skin.
▶SAFE MATERIAL: It is made of 100% embossed nylon which is acid free and lead-free, safe and extremely soft to use it on your skin-touch clothes (Use with any woven where softness is a consideration). The unique design of embossing can add multi-directional stability for your design.
Binding: Kitchen
model number: NB-ES-NSM-04
Part Number: NB-ES-NSM-04
Details: New Brothread No Show Mesh Machine Embroidery Stabilizer Backing For most embroidery enthusiasts/lovers, they deeply know good quality stabilizer is a vital key for a good embroidery design, especially for those who ever had bad embroidery experiences caused by using poor quality stabilizer. New Brothread is dedicated to provide premium no show mesh embroidery stabilizers for stretchy fabrics in light colored: 1, This no-show mesh embroidery stabilizer is made of 100% nylon. 2, It has features with soft, sheer, stable & semitransparent. 3, Best used with light colored fabrics as it is too sheer to show through. 4, It is light weight stabilizer, one layer can be strong enough for "no-show" results. 5, Combine with one layer of light weight tearaway stabilizer for heavy stitch designs. 6, Use with any woven where softness is a consideration. 7, Safe to use it on your skin-touch clothes. 8, The unique embossing pattern provides extra stability. New Brothread provide multi choices to meet your different requirements: Light weight 1.8oz - 8"x8" - 100pcs Precut Sheets - Fits 4"x4" and 6"x6" Hoops Light weight 1.8oz - 10"x12" - 100pcs Precut Sheets - Fits 5"x7" Hoops Light weight 1.8oz - 10"x10 yd - 1 roll - Cut into Variable Sizes as you need Light weight 1.8oz - 12"x10 yd - 1 roll - Cut into Variable Sizes as you need Light weight 1.8oz - 15"x25 yd - 1 roll - Cut into Variable Sizes as you need Light weight 1.8oz - 12"x50 yd - 1 roll - Cut into Variable Sizes as you need
EAN: 0611885102965
Package Dimensions: 12.2 x 2.6 x 2.6 inches