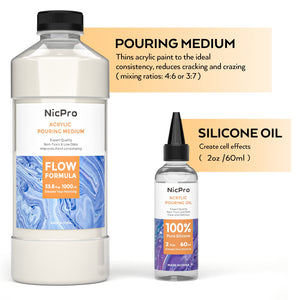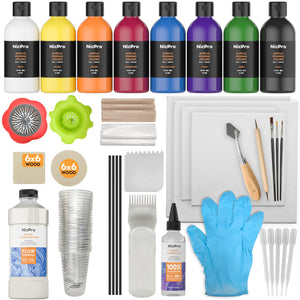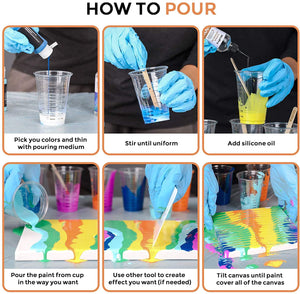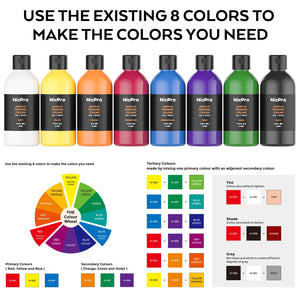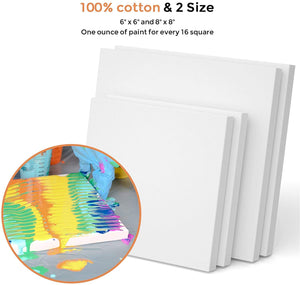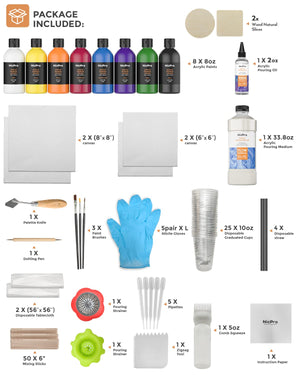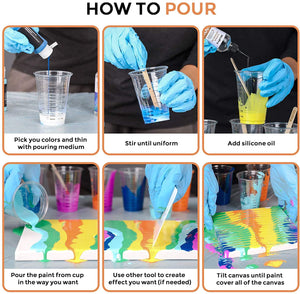 Nicpro
Nicpro Large Volume Acrylic Pouring Kit, Art Starter Supplies with 8 Colors 8.45 oz Acrylic Paints, Pouring Medium, Silicone Oil, Canvases, Cups, Sticks, Tools Gloves, Strainers for Flow DIY Painting
Brand: Nicpro
Color: 8 COLORS
Features:
1.Super Value Package :You will get 8pcs 8.45 oz acrylic paints, 2 oz pouring oil, acrylic pouring medium, 25pcs cups, mixing sticks, 4pcs canvas, 2pcs wood slices, pouring strainer, 50pcs gloves, brushes, Palette Knife, Dotting Pen, Pipettes, Disposable straw, Comb Squeeze, 3.3ft Cotton Rope, stater Instructions (This set is not ready-to-pour paint, need to mixing the acrylic paint and pour medium to get DIY pour paint)
2.Nicpro Colors ACRYLIC PAINTS - Acrylic paints 8.45 oz bottles. 8 different colors give you many options to create your paint pouring art. 4 packs of canvas in size 6" x 6" and 8" x 8". 2pcs wood slices. Comes with an instruction manual, not only can help learn pouring techniques from basic to professional, but also can help organize colors, making selection and combination easier.
3. Nicpro 2oz Art Acrylic Pouring Oil :Made of 100% silicone for the perfect cells every time. CLEAR & NON-TOXIC - Perfectly clear colorless. Will not alter the color of your acrylic paint
4.Nicpro 33.8oz Acrylic Pouring Medium-a fluid additive specially formulated to enable paint to flow easily across a surface. It thins acrylic paint to the ideal consistency, creates cell effects, and reduces cracking and crazing. It will not slow down the drying time, alter the color, or lessen the adhesion of paint.( just feel free to contact us for replacement if the pouring medium is in solid bits)
5.100% RISK FREE PURCHASE: If you are not satisfied with Nicpro Acrylic Paint Pouring Bundle, we're very happy to either provide a no-questions-asked Refund or Replacement. Order today risk free!
Part Number: MG153-NP
Details: Package Included : 8pc 8oz Acrylic Paints 33.8oz Acrylic Pouring Medium 3.3oz Acrylic Pouring Oil 50pc 6" Mixing Sticks 25pc 10oz Disposable Graduated Cups 5pair L Nitrile Gloves 2pc 6" x 6" canvas 2pc 8" x 8" canvas 5pc Pipettes 2pc 56" x 56" Disposable Tablecloth 2pc Pouring Strainer 1pc Palette Knife 1pc Zigzag Tool 3pc Paint Brushes 1pc Dotting Pen 4pc Disposable straw 1pc Comb Squeeze 1pc Instruction Pouring Strainer-For painting, you can match and mix various colors of pigments together, and pouring into the strainer to create amazing patterns. Dotting Pen-precision cut and perfect for dot painting on canvas, stones and many other surfaces. Palette Knife-used to mix colors or to apply colors Tablecloth-Keep your table from dirty
Package Dimensions: 13.3 x 10.2 x 7.4 inches