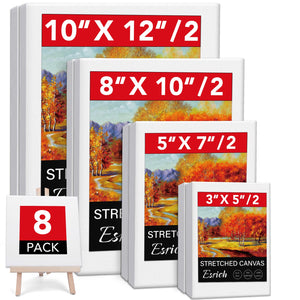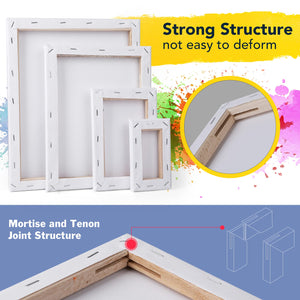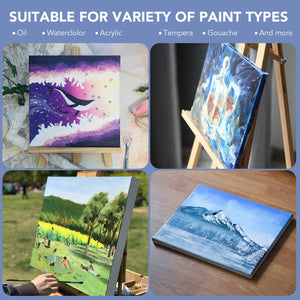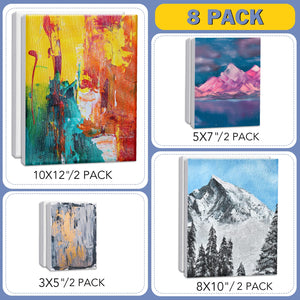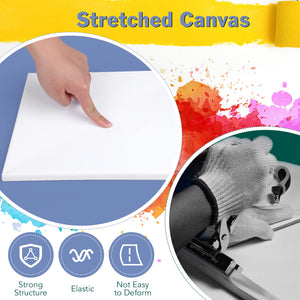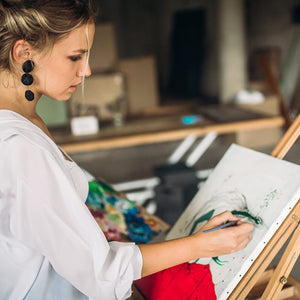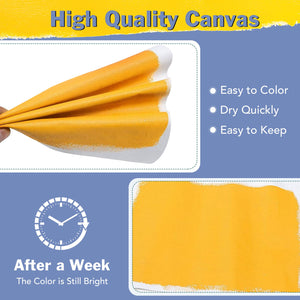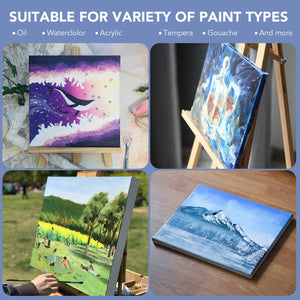 ESRICH
Stretched Canvases for Painting, 8PCS Multi Pack Canvas 3×5", 5×7", 8×10", 10×12"(2 of Each), Acid-Free Wood Frame Blank Canvas, Art Canvas Pre Primed for Acrylic, Oil Painting, Tempera Paintings.
Author: ESRICH
Brand: ESRICH
Color: White
Features:
Art Canvas Bulk: Our blank canvas set comes in 4 different sizes, 3×5", 5×7", 8×10", 10×12", 2 of each, total 8 pack, small and large canvas for painting to suit your many needs, whether you are a veteran artist or an amateur enthusiast.
Wood Frame: Stretched canvases for painting are made of pinewood, light weight and high strength, easy to paint, carry and display. The joint is connected by mortise and tenon structure, glue-free and no odor, solid and strong. The art canvas is nailed firmly to the wooden frame, giving the flat canvas boards good stretch and an extraordinary art experience.
100% Cotton Canvas: Blank cotton canvases are good for art, have been triple primed in gesso, acid-free, easy to color, dry quickly, easy to keep. Works great with watercolors, oil paintings, acrylic paintings, tempera paintings, pouring, etc.
Ideal Gift: Artists canvases can be used as a gift to share with family, friends, student, adult and artists, also can be given to your kids, cultivate enthusiasm for art.
Quality Assurance: When you receive the painting canvas, please check in time, you can contact us if you have any questions. Unpacking, please start your canvas painting art.
Binding: Office Product
model number: 8
Part Number: Canvas8
Package Dimensions: 11.8 x 9.9 x 1.3 inches