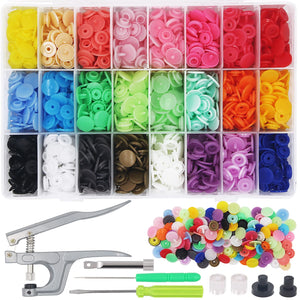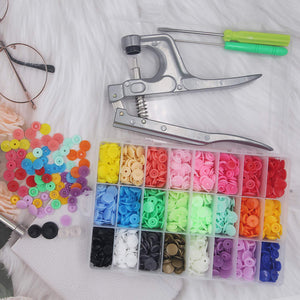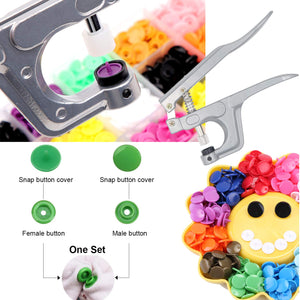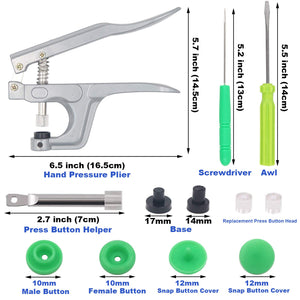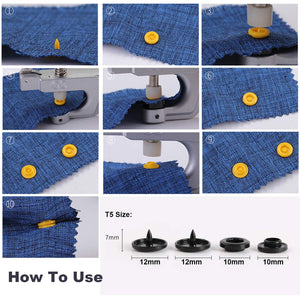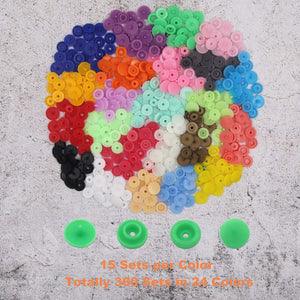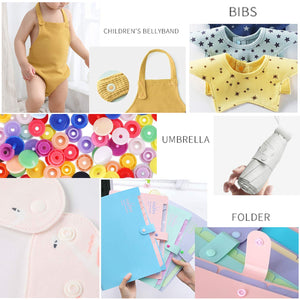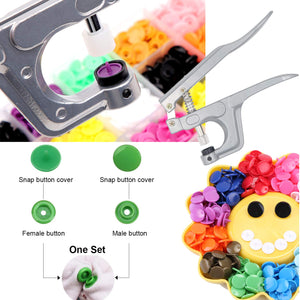 EuTengHao
EuTengHao 1440Pcs Plastic Snap Buttons No-Sew Snap Fasteners T5 Snaps with Snaps Pliers Kit for Clothing Sewing,Rain Coat,Bibs,Clothes Crafting(24 Colors,360Sets)
Brand: EuTengHao
Features:
Package Include: These 1440 pieces plastic snap buttons included 24 a variety of colors, each color has 15 sets, bright and vibrant. They are well organized in a plastic box, and includes 1 screwdriver, 1 awl, 1 press button helper and 1 hand pressure plier. 2 replacement press button head and 2 base. These all professional tools make your work better.
Product Specification: 1 set = 2 caps + 1 socket + 1 stud. Button cap diameter: 12mm (T5) / 0.47 inch; Pliers can work with T3, T5 and T8. Buttons color includes24 colors which includes red, dark pink, rose pink, pink, light pink, flesh pink, flesh color,light yellow, yellow, orange, baby blue, bright green, light green, dark green, dark blue, purple blue, ocean blue, light purple, dark purple, creamy white, brown, grey, white, black.
Quality Assurance: Premium quality,snap buttons are made of durable plastic, without harmful substances, pliers tools are made of stainless steel, sturdy and durable, can be used for long times, perfect rust-free alternative to metal snaps and a no-sew alternative to regular sew-on buttons. Widely used in clothing, cloth baby diapers, bibs, towels, and other embroidery, craft, sewing and household DIY projects.
Usage: Snaps are great for clothing, cloth baby diapers, bibs, towels, rain coat, cloth pads, fleece, felt, leather, vinyl, nylon strap, luggage ID, dog collars, t-shirts and other embroidery, craft, sewing and various household projects, you can imagine and create unique crafts, every piece of clothing will have your own design.
Storage: Each color in a single compartment, no mix up, coming with a high quality organizer storage case.
Binding: Office Product
model number: EUTH-147
Part Number: EUTH-147
Details: Package Detail:1 x 1440pcs Snaps(360 sets with 24 colors)1 x High quality pliers for plastics snap buttons sets1 x Transparent Set1 x Screwdriver1 x Awl1 x Press button helper2 x Replacement press button head2 x Base About Snap Pliers Set: Pliers can be used with T3, T5, T8 Buttons.Awl to poke holes in your fabric for easier snap placementHow to use:1. firstly, you will need two caps, one socket and one stud.2. Make sure your pliers match the size of the snaps you need.3. Choose your spot to install the snap and stick your awl into your fabric to create a small hole.4. Insert one cap and one socket into the pliers and line up with the hole you made with your awl. 5. Squeeze together a cap+socket and a cap+stud.6. Once you have each side of your snap installed, the socket and stud will click together. If either side feels loose, simply set the one side of the snap in the pliers again and squeeze.Tips: In order to use them more convenient and quick, punching a hole on the fabric surface is recommended. The product buckle fabric thickness do not too thickness. 
EAN: 0631514390372
Package Dimensions: 11.2 x 8.6 x 2.4 inches