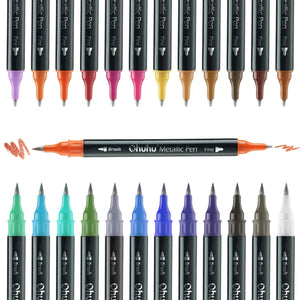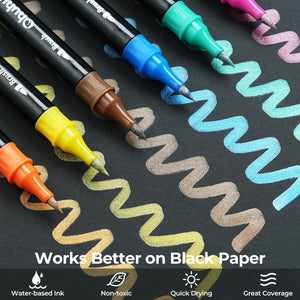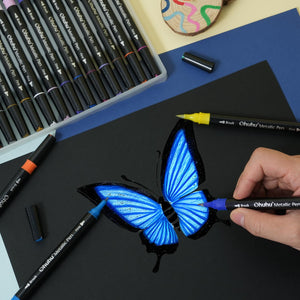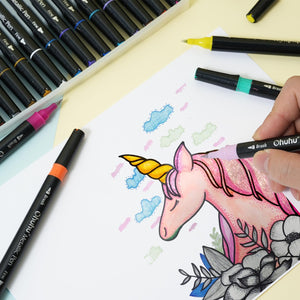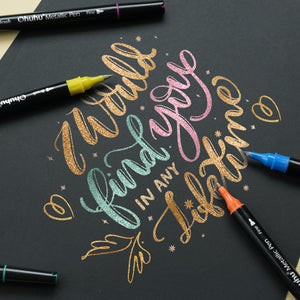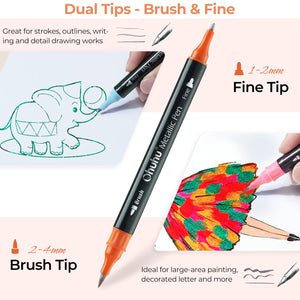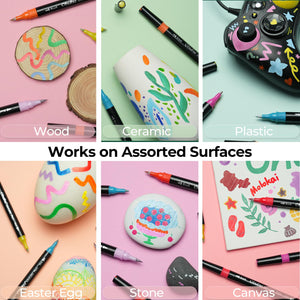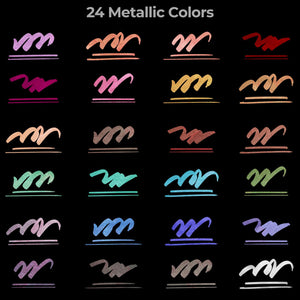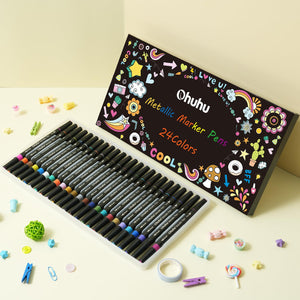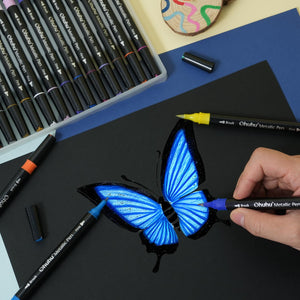 Ohuhu
Ohuhu Metallic Marker Pens Dual Tips Brush Fine Point 24 Colors Water-based Paint Shimmer Markers for Black Paper Glass Rock Card Making Scrapbook Crafts Easter Egg Halloween Pumpkin Ceramics DIY
Brand: Ohuhu
Features:
DOUBLE-TIPPED METALLIC MARKERS: These markers are designed to inspire your highest imagination and inspiration with their brush and fine tips. A 1-2mm fine point helps you finish all details, sketching, and writing. The other 2-4mm brush point makes area coverage and calligraphy easy.
24 VIBRANT METALLIC COLORS: With 24 vibrant shimmer colors, writing, drawing, decorating, doodling, coloring and more is sure to shine with these markers. 24 colors include magenta, maroon, blush pink, pink, light purple, slate gray, navy blue, dark blue, medium blue, sky blue, green, light green, lime green, light yellow, yellowish brown, light olive, gold, light orange, orange, reddish-brown, dusty pink, medium gray, white, and black.
PREMIUM QUALITY, WATER-BASED INK: Certified by ASTM D4236, this water-based ink is safe, non-toxic, odorless, and sustainable. The quick-drying ink offers strong coverage and long-lasting color without fading. Use it alongside a marker pen, acrylic pen, or highlight pen to create unique and exquisite artworks that are truly yours.
MULTI-SURFACE MARKABLE: Our metallic markers are great for black paper, rock painting, card making, glass, wood, scrapbooking, bullet journaling, plastics, Easter eggs, Halloween pumpkins, writing, drawing, coloring, DIY projects, and more.
COLOR-CODED CAPS & NON-SLIP DESIGN: Thanks to the anti-rolling dots, you'll feel at ease whenever you put down the pen without worrying about falling or rolling away. It offers a comfortable grip without causing hand fatigue. Plus, enjoy excellent airtightness to keep your metallic marker pen fresh and ready to use.
Part Number: Y30-80600-47
Package Dimensions: 14.1 x 7.4 x 0.7 inches