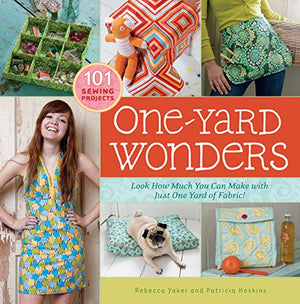 Storey Publishing
One-Yard Wonders: 101 Sewing Projects; Look How Much You Can Make with Just One Yard of Fabric! (STO-24493)
Libro para crear piezas vendibles con solo una yarda de tela. Contiene 101 proyectos para realizar junto con los patrones. 
Author: Hoskins, Patricia
Brand: Storey Publishing
Color: Multicolor
Edition: NOV SPI
Features:
Country of Origin:US
CPSIA:N
Hazardous?:No
Tariff:4901990093
Binding: Hardcover-spiral
Number Of Pages: 304
Release Date: 28-10-2009
model number: STO-24493
Part Number: STO-24493
Details: Discover all that you can make with just one yard of fabric! Rebecca Yaker and Patricia Hoskins offer 101 stylish projects that use a single yard of fabric to make clothes, accessories, baby items, and more. With simple step-by-step instructions that are accompanied by templates and pattern pieces, each project is designed to be completed in just a few hours. Get inspired and turn a yard of your favorite fabric into a quilted lunch bag, bright sundress, or a cuddly plush turtle.
EAN: 0999994161067
Package Dimensions: 9.1 x 9.1 x 1.3 inches
Languages: English