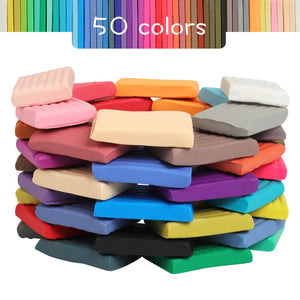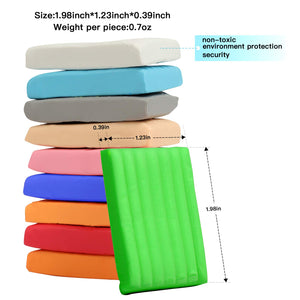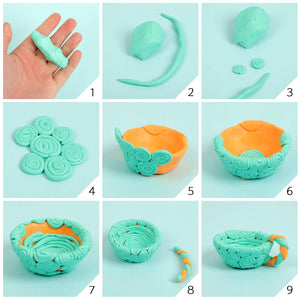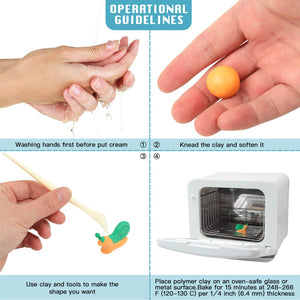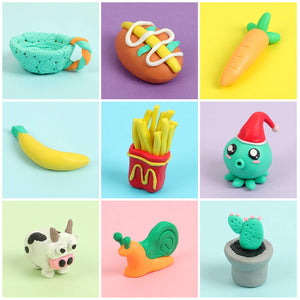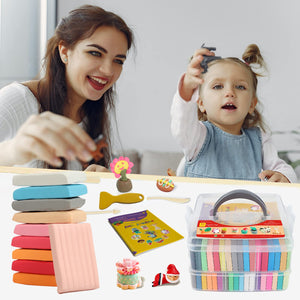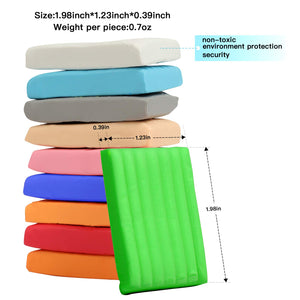 Aestd-ST
Polymer Clay 50 Colors, Modeling Clay for Kids DIY Starter Kits, Oven Baked Model Clay, Non-Sticky,with Sculpting Tools, Gift for Children and Artists (50 Colors A)
Brand: Aestd-ST
Color: 50 Colors A
Features:
DIY gift for children and artists: 50-color polymer clay starter kits, easy to shape, arbitrary fabrication, rich colors, satisfying matching, non-sticky, non-fading, easy modeling, especially suitable for artistic creation.
Packaging and weight: two-layer plastic storage box set, 50 pieces of polymer clay, single clay PE bag packaging, creative modeling tools, accessories and user manual, weighs 2.96 pounds in total
Material: It is made of soft polymer clay, free of wheat, nuts or peanuts. It strictly abides by ASTM D-4236 standards and requirements, and accompany your child with confidence.
Three molding methods: Use oven-oven to bake (recommended), hair dryer to heat (suitable for small workpieces of 1-2 inches), and the boiling method is not effective. Please refer to the instructions for specific use.
Lifetime service: If you have any questions or quality problems about the purchased products, please contact us. We will serve you 24 hours a day. If you are not satisfied, you can replace it at any time or refund. (Kind tips: Small parts, not for children under 3 yrs.)
Binding: Kitchen
Details: 50-color polymer clay, rich in visual sense, creative inspiration, safe, non-toxic, is an ideal DIY gift for children and artists. The polymer clay starter kit includes: ● 50 colored polymer clay blocks. ●1 double-layer portable plastic storage box. ●5 molding tools. ● Many molding process accessories and a manual. Curing method: 1. Oven baking: ●Place polymer clay on an oven-safe glass or metal surface. ●Bake at a temperature of 248-266°F (120-130°C) for 15 minutes per 1⁄4 inch (6.4 mm) thickness. ● After the baking is completed, the work can be taken out after cooling down. 2. Heating by hair dryer or hot air gun (suitable for 1-2 inch size works): ● Put the work in a closed box and heat it for 3-5 minutes to cure. 3. Boiling method (suitable for 1/3 inch size works): ●Put the workpiece on the plate and put it in cold water until the water boils. ●Keep boiling for 10-20 minutes. ●Take out after cooling water. Safe to use: Polymer clay is not suitable for children under 3 years old, children 3-10 years old need to use under the guidance of adults. Do not wipe your eyes during the use of clay, and wash your hands after finishing. Tips: Please wash your hands before use and put on some hand cream to make the soft clay not easy to stick to your hands and easy to make. Soft clay is an oily material. It should be fully kneaded and matured before use to make it softer and easier to shape. When it is soft, you can use an appropriate amount of talcum powder and leave it for a while. When it is not in use, it is recommended to wrap it in plastic film and store it in a cool place for usage next time.
EAN: 0734327901466
Package Dimensions: 6.7 x 6.4 x 4.3 inches