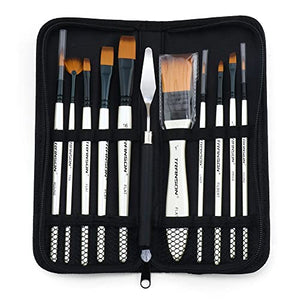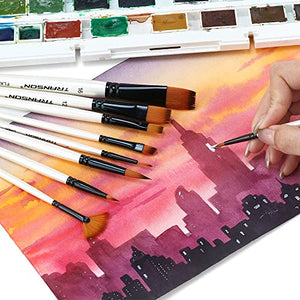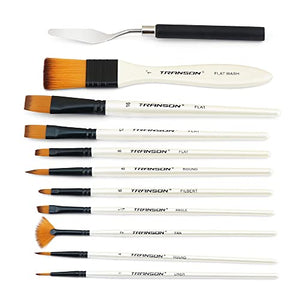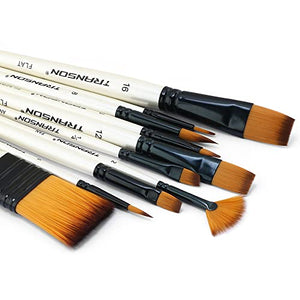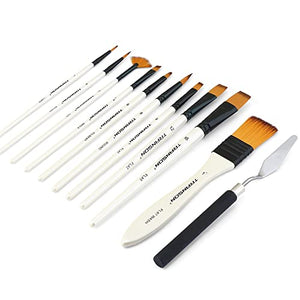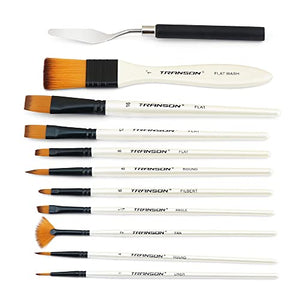 TRANSON
Transon Paint Brush Kit 10pcs Art Brushes and 1 Paint Spatula with Brush Case
Brand: TRANSON
Color: White
Features:
Transon art painting brush kit comes with 10 assorted paintbrushes, 1 paint spatula, all in 1 zipper brush case.
10-piece premium nylon brush set includes: liner: #1, round brush:#4, #8, flat brush: #8, #12, #16, angle: #1/4, fan: #2, filbert: #6, flat wash: size 1". And 1 extra paint spatula.
These nylon brushes are suitable for various like acrylic, gouache, watercolor, tempera, oil, etc. Nylon brushes are also easy to care, always remember to clean your brushes after use.
Short white handle, dual color nylon, chrome plated aluminum ferrule. This paintbrush kit is perfect for all level artists: beginner, advanced, professional, adult and kids.
This brush set also comes with a portable zipper brush case, nice and convenient for store and transport.
Binding: Kitchen
Package Dimensions: 9.2 x 3.9 x 1.3 inches